Conservation
District
Programs
Award Winners
Chesapeake Bay Program
Dirt & Gravel Roads
Envirothon
Erosion Control (Ch 102)
Golf Tournament
Nutrient Management Program
Tree Sale
Watershed Program

District Directors
District Staff
Directions to Office
Resources & Services
Forms
Links
Frequently Asked Questions

District Home Page
Cumberland County
Conservation District
310 Allen Road, Suite 301
Carlisle, PA 17013-9101
717-240-7812
Fax 717-240-7813


[email protected]
Cumberland County Conservation District
Watershed Program


What is a watershed?
A watershed is the land area that drains into a stream, river, or body of water. In Cumberland County, there are two major watersheds, the Conodoguinet and the Yellow Breeches. A small percentage of the county at the eastern boundary drains to the Susquehanna River.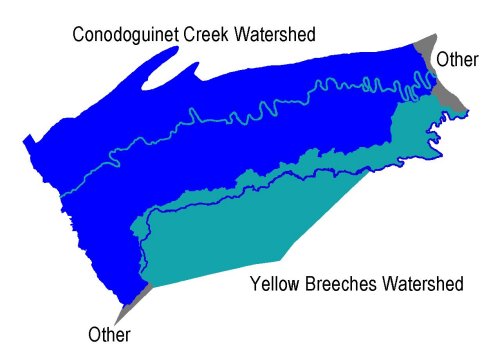 Within each of the major watersheds in the County, there are tributary streams that drain to the Conodoguinet and Yellow Breeches Creeks. These tributaries each have their own watershed. These are considered sub-watersheds of the larger watersheds. If you would like to know what watershed you live in, please contact the Conservation District.

In July of 2000, the District created a new position to administer watershed related activities in Cumberland County. This position is primarily funded with a grant through Pennsylvania's Growing Greener Program. The Watershed Program in Cumberland County is targeted at administering or assisting with projects that improve the overall quality of our watersheds. These projects can vary from installing agricultural best management practices (BMP's) on farms to planting riparian buffers to assisting local watershed groups with their organization.

Since the start of the Watershed Program, the District applied for and received six grants totaling over $675,000 to improve the watersheds of Cumberland County. Four of the grants are for installing BMP's on Cumberland County farms to reduce nutrient and sediment pollution. Below is a list of the grants received and the funding source:
All documents are provided in Adobe Acrobat format.


Local Watershed Groups
Big Spring Watershed Association

Conodoguinet Creek Watershed Association

Letort Regional Authority

Middle Spring Watershed Association

Friends of Opossum Lake Conservancy

Yellow Breeches Watershed Association

Funding Source Links
http://www.depweb.state.pa.us/growinggreener/site/default.asp
http://www.chesapeakebaytrust.org
http://www.pawatersheds.org